408 Roseville Square
Roseville, CA 95678
Near Trader Joe's

(916) 900-2473
Open Today Until 6:00 pm
| | |
| --- | --- |
| Monday | 10:00 am - 6:00 pm |
| Tuesday | 10:00 am - 6:00 pm |
| Wednesday | 10:00 am - 6:00 pm |
| Thursday | 10:00 am - 6:00 pm |
| Friday | 10:00 am - 6:00 pm |
| Saturday | 10:00 am - 6:00 pm |
| Sunday | 11:00 am - 4:00 pm |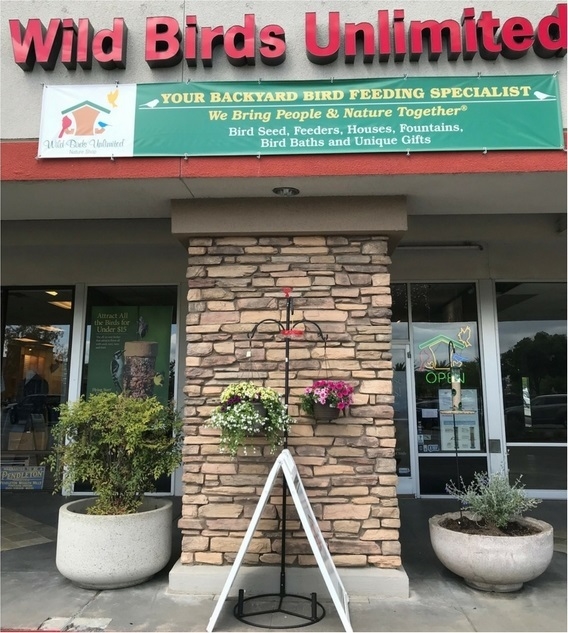 Angela & Steve Thompson Franchise Store Owners
View Our Store Site
How to Prepare Your Yard for Fall
25% OFF* on ALL Bird Baths, Fountains, & Benches (In-Store Only)
20% OFF* on ALL Feeders (Online Only)
As fall rolls in, there are several ways you can prepare your yard to help your visiting birds during cold weather.
Take Stock of Feeders
During fall & winter, birds need high calorie foods to keep their little bodies warm, especially during cold nights. Now is the perfect time to clean and repair your feeders and replace any that cannot be fixed.
Clean your feeders with warm, soapy water, and sanitize them with a 10% vinegar solution. If you're looking to replace a feeder, try a Wild Birds Unlimited EcoClean™ Feeder. These feeders are easy to clean (no vinegar needed for sanitizing), and they feature a patented technology that inhibits the surface growth of damaging bacteria, mold and other microbes. This protection won't wash or wear away, and it uses environmentally friendly technology.
Provide Shelter
Cold winds strip heat from birds very quickly. Birds will seek refuge from the wind in dense vegetation, natural cavities or roosting boxes. Roosting boxes provide birds with a warm, dry location that can help protect them from cold, nasty weather.
Offer Water
Birds need water in winter to drink and to maintain their feathers for effective insulation. Birds love moving water and we have water wigglers that will add movement to any bird bath. Nothing is more exciting then watching your backyard birds taking a bath!
*Valid only at the participating store listed. Not valid on previous purchases or with other discounts. Both offers valid thru 10/15/18. Bird Baths, Fountains, & Benches are 25% Off In-store only. Feeders are 20% Off Online only.
---